Organ
The organization in Wazir refines the managers on the basis of their defined management activities. It creates a level of a company structure where the managers are responsible for the projects, tasks, resources, assets that come under their department. Setting up an organization symbiosis requires the administrators, executives, and managers in the process.
Please find below top level features of organization management tools:
User Manager
The user managers handle user-related activities, like, adding new user, delete user, editing and viewing user.
Role Manager
The Wazir role manager defines precisely what each user can access within the organization.
Client Manager
Wazir's Client manager feature all the in-detail information of the client of an organization.
Assets Manager
Wazir is built advancingly to keep a log of company's entire physical assets.
Department Manager
This feature in Wazir looks after all the departments and classifies user as per their department.
Technology Manager
Wazir's Technology Manager overlooks the technologies a company work on and filter users as per then.
Quick
Minute
Walkthrough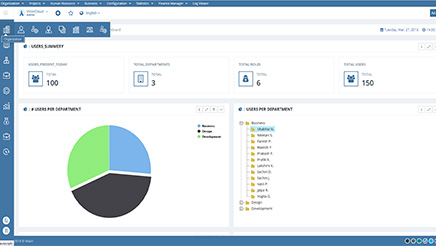 Let's Feel The Best Experience of wazir in 5 Minutes!