Role
With Wazir as your project management solution, it is very accurate to track the time spent by each of your resources on different activities and tasks. This is incredibly beneficial when one resource works on multiple projects. For any project manager, it is essential to know where the team members spend their time and what are the tasks which takes a lot of time. This information as gathered by the time tracking features through reports serves extremely useful to estimate the tasks in upcoming projects. The timer is just a click away to start and stop a task, once known to the time planned and time spend business owners can precisely map the billable time of any project.
Please find below top level features of role management tools:
Customized role management as per your needs
Add Multiple Projects
Add Departments as per your needs
Create unlimited Widgets
Increased Administrative efficiency
Easy policy compliance
Improved Security
Quick
Minute
Walkthrough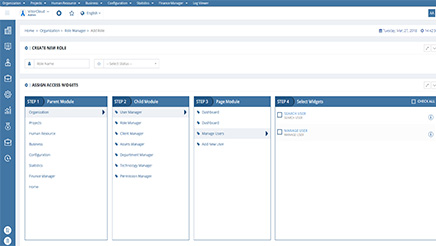 Let's Feel The Best Experience of wazir in 5 Minutes!