Proje
Wazir's Project Manager undertakes the business, client and the technical side of a company, and manages even the minutest detail that comes under any project. It tracks the project at real-time and gets a comprehensive snap-shot of the project status. Further collaborating in real-time helps the team to stay organized and perform better.
Please find below top level features of project management tools:
Project Manager
The admin through Wazir's Project Management module can add, delete and edit a project.
Overview
Get the bird eye view of the ongoing project divided into different task, modules & sprints wise in easy to understand way.
Task / Bug
Search task with title, type, module, sprint, id, priority, assigned to, assigned by, status & different date ranges.
Graph
Explore graphical view of hours spend in projects by team members, divided into different department & months wise.
Reports
Check reports of any individual or department wise. Check hours spend, task & bugs assigned and resolved for specific date range.
Time Sheet
Check hours spend on daily basis on any specific ongoing project. Explore it in detail by clicking on view more icon.
Calendar
Easy way to get overview of different task & modules for any specific day or sprint wise. Easy export to pdf.
Document
Download, edit & view the project related important documents with a single click. Easy to check log files.
Credentials
Get access to important credentials related to projects over here. Search credentials with either key name or with created by.
Modules
See the entire module for the project in a tree view over here. Easily edit or delete any specific module.
Sprints
Search, add, delete or review the sprint created by different team mates all at one single place.
Quick
Minute
Walkthrough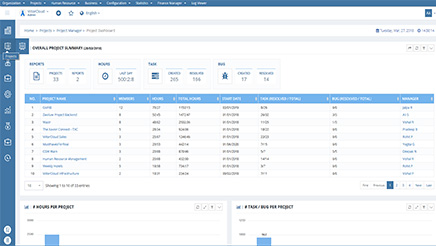 Let's Feel The Best Experience of wazir in 5 Minutes!