Human
Wazir is an intelligent resource planning tool which helps the organizations manage their human resource allocations and requirements. This feature enhances an organization's overall productivity, efficiency and saves a lot of time. When a project grows, or a new project comes with higher resource requirement, Wazir identifies the areas where to pull resources to accomplish the required tasks.
Please find below top level features of human resource tools:
Recruitment Manager
The recruitment manager of Wazir is beneficial for the HR Department to manage the recruitment in an organization.
Vacancy Manager
Wazir's Vacancy Manager is created to manage the present resource requirement of an organization.
Leave Manager
The leave manager in Wazir records the leaves of resources, users can add their leaves.
Quick
Minute
Walkthrough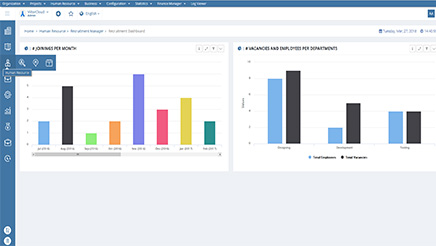 Let's Feel The Best Experience of wazir in 5 Minutes!